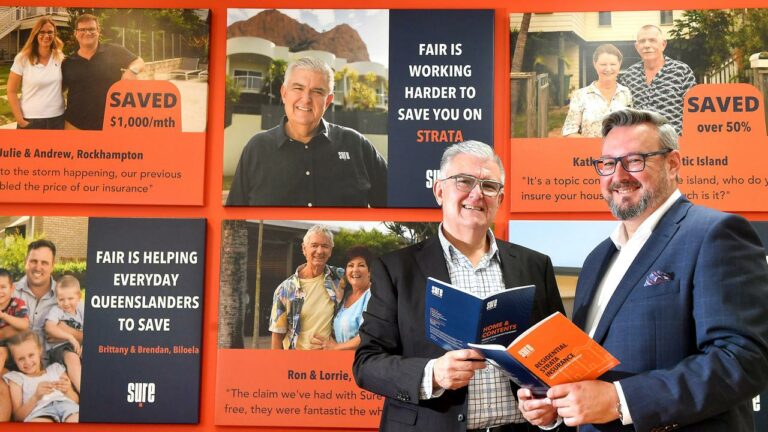 A back-of-the-envelope idea to take on the big boys of the insurance trade in Queensland's cyclone alley has turned into a $150m business for Bradley Heath.
Mr Heath, who spent more than a decade as chief executive of RACQ Insurance, founded Sure Insurance with business partner Michael Boucher in 2018 to cater for cyclone-hit residents of North Queensland, who could not afford the premiums being charged by the major insurers.
Now Sure has more than 50,000 customers, many of whom did not have insurance cover ­previously because of the exorbitant cost of insuring homes north of Bundaberg.
"The big insurers offer a wide range of products and across a wide area," Mr Heath said. "But what North Queensland needed was a specialist. Some people in the industry said that we were crazy – those same people are not saying that now."
Although most people in Brisbane are unaware of the brand – with RACQ and Suncorp remaining market leaders – blanket marketing and advertising has placed Sure on most people's radar in the north of the state. "We've had to take on the big brands with their balance sheets and if you're building a brand, it is hard because trust is central," he said.
Mr Heath conceded Sure had not faced a major weather event yet, but it was ready for the eventuality. "We spend a lot of time with catastrophe planning and we have all the infrastructure in place," he said. "We were making sure our claims department is good enough, but you know the proof is the pudding.
"I have personally dealt with events like Cyclone Larry and in the final analysis, the reason we exist is to manage people's claims. When people are most vulnerable, most scared, and most concerned, they want to be put back where they were as quickly as possible."
Mr Heath said that after working with the major insurance companies for many years, he realised things could be done more efficiently.
"I could see how you could overcome the price problem with the right model," Mr Heath said. "I love building things and I love making things work. And this has been a challenge from the ground up. It's rare to see this sort of business start from ground zero. We've only been going for four years and we've already got 10 per cent of the market."
Mr Heath said he was initially surprised by the growth of the business, but it was "very much reflective of what the original strategy was". "The competitors became complacent," he said. "They've been taking their customers for granted for too long … Insurance is a funny game – you are only as good as your last claim."
Sure Insurance entered the market when home insurance premiums in North Queensland were at crisis point with several people unable to afford cover in the cyclone and flood-prone areas of the state. Premiums in North Queensland had risen 130 per cent over the past decade to 2018, compared with 50 per cent in the rest of Australia, according to the Australian Competition and Consumer Commission.
Sure operates as a "managing general agent" (MGA) backed by US-based Liberty Mutual Insurance, allowing it to keep overheads low and compete with larger rivals. MGAs provide full underwriting and claims management services often at a price that traditional insurers cannot match.
Sure Insurance was the second insurance provider to enter the federal government's $10bn reinsurance pool in January that allows insurance companies to transfer their risk for cyclones and cyclone-related flood damage.
"We have probably saved our customers more than $150m – that is what they would have on average been paying elsewhere," Mr Heath said. "And that's premium savings going back into those regional economies.
"We've got plans to think about further expansion where it makes sense … where we think we can do the same deals for cus­tomers and in areas where they are constrained by price we will look at it."
The Australian, 3 Oct 2023 p.15 Business by Glen Norris, Senior Business Reporter
https://www.theaustralian.com.au/business/financial-services/how-a-former-racq-chief-took-on-the-big-insurers-and-is-beating-them-at-their-own-game/news-story/4fb72679edc01a470529f5e0a2e71f2a
Further information contact Mike Sopinski on 0421 052 598.