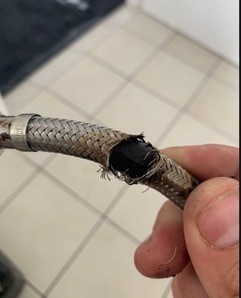 Regional Queensland householders have made an increased number of water damage insurance claims as a result of failed Flexi-Hoses.
Sure Insurance urged householders to be aware that water damage from failed and faulty Flexi-Hoses remains a major source of claims, some costing thousands of dollars.
Bradley Heath, Managing Director of Sure Insurance said, "We've seen a rise in the number of Flexi-Hose related claims as older hoses of varying degrees of quality have failed damaging homes through the escape of liquid.
"The real problem is that if a Flexi-Hose fails when the home is unoccupied the ensuing water damage often results in hefty costs and major disruptions for householders."
Damage often occurs in kitchen and bathroom areas which can quickly spread to other living areas and other lots when hoses fail in apartments and units."
"We remind householders to be aware that Flexi-Hose products have a useable safe lifespan of between five to ten years. After ten years it's only a matter of time before the flexible hose may potentially fail."
"If householders have any concerns about the presence of flexible hoses in their home they should engage a licenced plumber to conduct an inspection and if necessary to replace all at-risk hoses," said Mr Heath.
Sure Insurance Flexi-Hose safety tips:
If leaving the home for an extended period, turn off the water mains to prevent incidents.
Arrange a licensed plumber to inspect all existing installed flexible hoses.
Replace all older or at-risk flexible hoses.
Do not attempt to do-it-yourself, as improperly installed hoses are the cause of many preventable incidents.
Be aware that some cleaning products stored under the sink are corrosive and may contribute to corrosion of the braided stainless steel hose sleeve.
Further information contact Mike Sopinski on 0421 052 598.